Geo Places
Create & manage your out of the box city directory website
A strategically built city portal that gives you good ROI and showcases different places and businesses.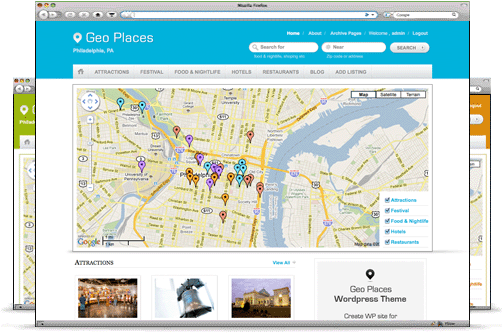 Geo Places Theme Features (click image thumbnails to view full screenshot)



Strategic design of the homepage

Geo Places theme's homepage structure is finalized after many iterations. Designed strategically, the structure of the page is done in such a way that gives maximum exposure to essential elements. From main product image to tiny design element, everything is thoughtfully placed at the right place. The page includes maps, widgets, image slider, adding videos, etc.




Home Page Banner Slider

If you wish to show image slider instead of the big map in the homepage, you can do that easily by switching the widget. It gives you advanced option to se banner images link, width, height, speed, animation effect etc. as well




Category Listing View

The places category page gives you an option to list the places in grid or list view from admin panel. A separate sidebar is shown here which also shows collective map of all the places in this category. Not only that, you can sort the places by user rating and reviews




Place Details Page

Strategically built page gives maximum ROI. It creates auto Image gallery, highlights the place address, contact details etc. Plus, shows detailed map and direction and shows places near by.




Add listing page

You can allow your site visitors to add places on your site for free or can charge them a reasonable fees. You can allow it to automatically publish on your site or can choose keep them as draft unless you review the place. Support for six different payment gateways is included.




Add Events

Don't just limit your directory to business listings, but now users can add events also. You can allow users to post events by enabling a setting from wp admin area. Also you can add image gallery, to do this, just keep on adding images and image gallery will be automatically be created.




Event Detail Page

You can highlight event date, venue, time, how to register and place the registration button. We have also included Google streetmap, which you can enable/disable through widgets. Plus the event calendar, which highlights all the dates.




Featured Events and Listings

Add free or featured events/listings. Featured listing or events gets special attention and its highlighted. Also you can list it in grid/listing view, and you can select this wp admin area.




Sign In or Signup

Users can register on your site and can manage the places they have listed on your site. Not only that, they can also renew the place listing further once their listing has expired.




User Dashboard Page

Users can register on your site and can manage the places they have listed on your site. Not only that, they can also renew the place listing further once their listing has expired.




News Blog

You can have a news page on your site where you can list all the news/blog posts and users can comment in there as well




Design Settings

Control everything from WordPress admin options to color scheme, logo, navigation, google map -> Map Central – latitude, longitude and Scaling factor, Category page Settings, Place Detail page Settings, Add Listing page Setting, etc.




Payment Options

Various types of Payment Options are integrated like Paypal, Google Checkout, Authorize.net, Worldpay, 2CO (2Checkout), Pre Bank Transfer and Pay Cash On Delivery




Manage Category Icons

The map shows different icons to indicate different categories on your site. You can manage and change Google Map category icons as per your wish




Manage Coupons

Not only you can charge your site visitors for adding places on your site. You can create, manage and give them promotional coupons once in a while to increase popularity of your site.
Standard Features

Six detailed color schemes
Fully customizable front page
Excellent Support
Theme Guide & Tutorials
PSD File Included with multiple use license
Drop Down menu
Gravatar Support & Threaded Comments
Built-in Ad Monetization
Built-in payment gateways
Widget Ready with custom widgets
Valid, Cross browser compatible
Why buy?
Now you can create a city directory, list out the best places, add reviews and rating, show locations through Google maps, monetize and earn from it, and these are just some benefits. We have included the features very thoughtfully, neglecting the not so important stuff and including only the necessary features with the best usability and easy of use.