A great Article based, Directory website.
Bulk upload articles, manage your site easy with great admin tools. Only add your own articles or also let your users submit articles, to create a portal for a particular subject.
Allow featured articles,  for a fee, and offer an Advanced Search.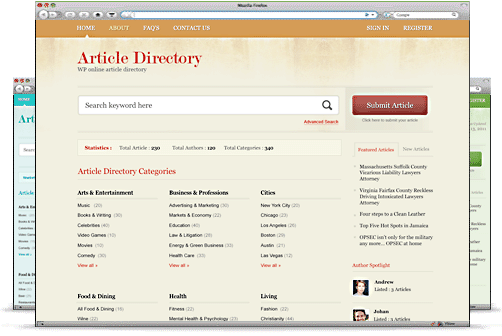 Article Directory Features (click image thumbnails to view full screenshot)



Add Articles

Your users/visitors can easily add an article by filling out a simple form. Adding articles to this directory is a breeze, thanks to the simple add article form. Plus you can give discount coupons, make packages and support for 6 different payment is already included




Article List or Grid View

The article listing page gives you an option to list the articles in grid or list view. If a user wants to change the view then he/she can do it easily by clicking on grid or list view button. One can easily switch between both views. Plus the featured articles are shown at the top of the page.




Article Detail Page

The Article detail page is the perfect page to showcase your articles. In the sidebar it will automatically show related articles. Plus users can even Print or click on Like this article.




Sign In or Signup

Users can register on your site and can manage the articles they have posted on your site through their Dashboard. Not only that, they can also renew the article listing further once their listing has expired.




Payment Options

Various types of Payment Options are integrated like Paypal, Google Checkout, Authorize.net, Worldpay, 2CO (2Checkout), Pre Bank Transfer and Pay Cash On Delivery




Manage Coupons

Not only you can charge your site visitors for adding articles to your site. You can create, manage and give them promotional coupons once in a while to increase popularity of your site.
Standard Features

Fully customizable front page
Drop Down menu
Gravatar Support & Threaded Comments
Built-in Ad Monetization
Built-in payment gateways
Widget Ready with custom widgets
Valid, Cross browser compatible
Why buy?
Because this is a great way to offer the original non-copied content required by search engines, like Google, if seeking the best search results placement for your website. Articles can be a great way to display In-depth Analysis, Research and Reports and Research with supporting Blogs to keep users captivated and regular visitors
List out the articles yourself or let other users(visitors) add their articles. With the tools to earn from the articles. We have included the features very thoughtfully, neglecting the less important elements to ensure the best features whilst ensuring usability and easy of use.